Little Dot DAC_II
Availability:
Available
Price via direct PayPal Invoice:
279 USD
Shipping:
North America (USA, Canada): 45 USD
Western Europe: 51 USD
East Asia: 39 USD
Please inquire for other destinations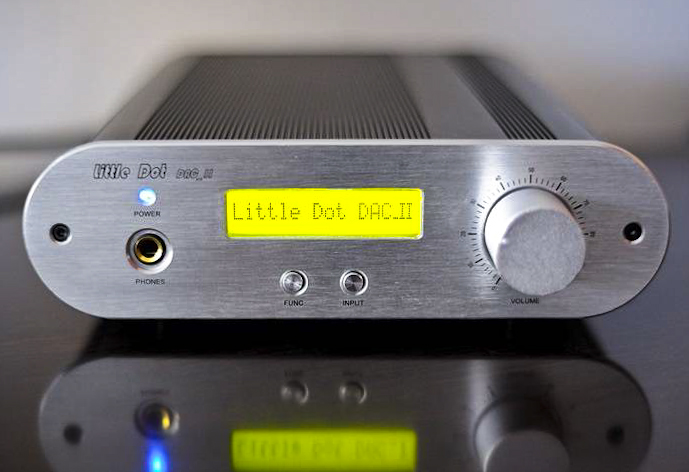 The Little Dot DAC_II combines our Little Dot DAC_I's D/A circuit with a built-in (LME49710HA pre-stage and discrete BD139/BD140 transistor output stage) headphone amplifier module! Four inputs (Coaxial, BNC, Optical, and USB) allows the Little Dot DAC_II to be used with digital source like a CD Transport or a computer as a standard USB audio device. User functionality customizations include setting the bit-rate, maximum sampling frequency, and how the DAC's digital filter operate (sharp or gentle). At the heart of the Little Dot DAC_II are the Wolfson Micro's high quality 24-bit 192Khz WM8740 DAC chip, WM8805 ultra-low jitter (50ps) digital transceiver chip, and the ultra-low distortion LM4562/LME49720/LME4910. A dual crystallizer re-clock circuit ensures a synchronized and jitter-free signal!
The internal components have been carefully chosen for their quality and precision - tight tolerance resistors, WIMA coupling caps, ELNA and NISSEI filter caps, Toshiba optical connectors, and BD139/BD140 transistors.
Precise with flat frequency response, the Little Dot DAC_II delivers a smooth and highly accurate sonic presentation with no detail left obscured!
Technical Specifications:



S/PDIF Digital Inputs:

BNC
RCA (Coaxial)
Toslink (Optical)
USB (Standard USB audio device)

Output Frequencies:

16/24-bit
44.1 KHz - 96 KHz (Display will show 44.1 KHz, 96 KHz, or 192 KHz)
USB input: 16-bit / 48 KHz

Output Voltage:

RCA non-balanced output: 2V (RMS) per channel
Headphone output: 300 mW RMS (32 ohms)
Signal-To-Noise: > 110 dB
Dynamic Range: 117 dB
Total Harmonic Distortion: -104 dB
Power Consumption: 10 VA
Fuse Rating: 1A

Measurements:

Metric: 365mm (length) by 217mm (width) by 61mm (height)
English: 14.37 inches (length) by 8.54 inches (width) by 2.4 inches (height)

Weight:

Gross: 2.8 KG
Net: 2.0 KG
In addition to direct purchase (Email us), also available on EBAY for our customer's convenience. Please search for Little Dot Amplifier sold under EBAY seller Davidzhezhe
Power Cord Note:
Little Dot amplifiers ships with a standard Type-B power cord (American 3-pin or U-ground) suitable for use in areas such as North America, Japan, Taiwan, etc. If your country's outlets use other power cord types (ex. Schuko) you will need to provide you own power cord. You likely have several spares around your home, as any standard power cord (like your computer's power cord) will work perfectly fine. We do apologize for any inconvenience!