Little Dot MK II
136 USD
plus shipping
North America (USA, Canada), Oceania (Australia, New Zealand), and East Asia shipping: 39 USD
Western Europe shipping: 45 USD
Eastern Europe, Central Asia, and Middle East shipping: 51 USD
You can purchase the Little Dot MK II directly via PayPal. The price is all-inclusive (shipping, standard tube set, Type-B power cord, and set of RCA cables). If you would like to add extra tubes or other custom order options, please email us at
little.tube@gmail.com
Additional Tubes:
2x 6JI: 10 USD
2x 6N6: 20 USD
Upgrade and replace stock 6JI driver tubes with JAN 5654: 15 USD
Upgrade and replace stock 6JI driver tubes with M8100/CV4010: 50 USD
Upgrade and replace stock 6N6 power tubes with 6H6PI/6H6N: 30 USD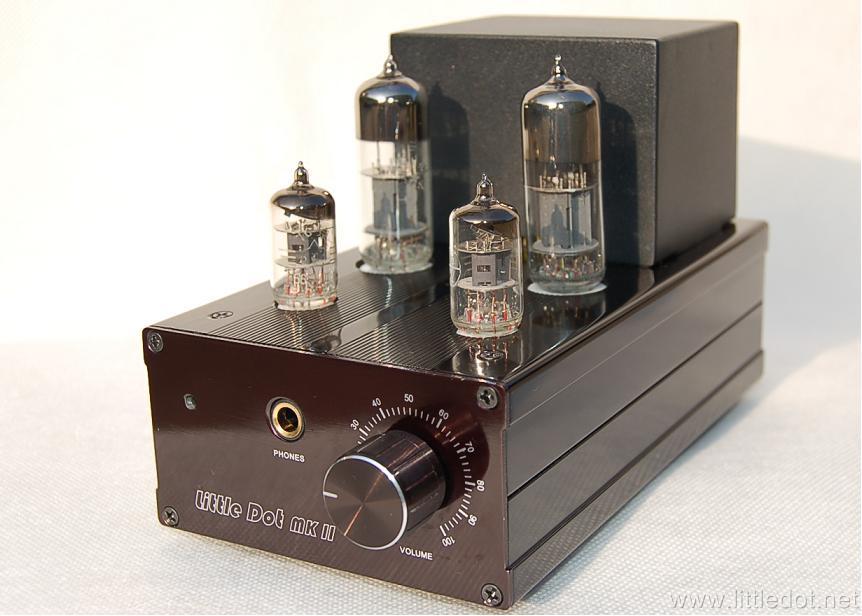 An SEPP (single-ended push pull) OTL circuit operating in Class-A, the Little Dot MK II greatly increases sound quality, dynamic range, output impedance, and harmonic distortion over the celebrated Little Dot II++.
The Little Dot MK II now also provides gain control of 3, 5, and 10 via internal DIP switches for fine-tuning so you can maximize synergy with almost any headphone you have, whether it be 32 ohms or 600!
The Little Dot MK II also gains the driver tube-rolling options from the rest of the MK-series with the ability to roll 6JI, WE403A/B, GE5654, M8100, CV4010, EF95, etc at its factory jumper setting, and with jumper pins shorted, EF92, CV131, and all equivalents and drop-in replacements!
See what people are saying about the Little Dot MK II:
Little Dot MK II Review @ Head-Fi
Technical Specifications:


SEPP (Singled-ended Push Pull) OTL in Class-A
Input: Gold-Plated Unbalanced Phono (RCA) Jacks
Output: 1/4" Gold-Plated Stereo Headphone out
Driver Tubes: 6JI
Power Tubes: 6N6
Frequency Response: 20HZ - 50KHz (-1dB)
THD+N: 0.1% (50mW into 300 ohms)
Suitable Headphone Impedance: 32 - 600 ohms
Input Impedance: 50K ohms
Pre-Amplifier Output Impedance: 600 ohms
Pre-Amplifier Gain: 3-10x (also controlled via gain switches)
Pre-Amplifier Voltage: 10V RMS
Max Input Voltage: 4V RMS
Pre-Amplification circuit includes both driver and power tubes
Power Output:
300mW into 300 ohms
200mW into 120 ohms
100mW into 32 ohms
Power Consumption: 28W (228V x 0.124A)
Metric: 210mm (length) by 110mm (width) by 130mm (height)
English: 8.26 inches (length) by 4.33 inches (width) by 4.18 inches (height)
Weight: 2.5 kg or 5.5 lbs.
1 Year Little Dot Warranty
In addition to direct purchase (Email us), also available on EBAY for our customer's convenience. Please search for Little Dot Amplifier sold under EBAY seller Davidzhezhe
Power Cord Note:
Little Dot amplifiers ships with a standard Type-B power cord (American 3-pin or U-ground) suitable for use in areas such as North America, Japan, Taiwan, etc. If your country's outlets use other power cord types (ex. Schuko) you will need to provide you own power cord. You likely have several spares around your home, as any standard power cord (like your computer's power cord) will work perfectly fine. We do apologize for any inconvenience!